Manage, Share, and Store 4K and 3D* Video Content
Across Hospital Networks and Enable New Workflows
NUCLeUS™ is a scalable, future-proof, and vendor-neutral software platform that streamlines the aggregation, management and distribution of high-quality video content up to 4K resolution across hospitals' fiber- or copper-based IP networks.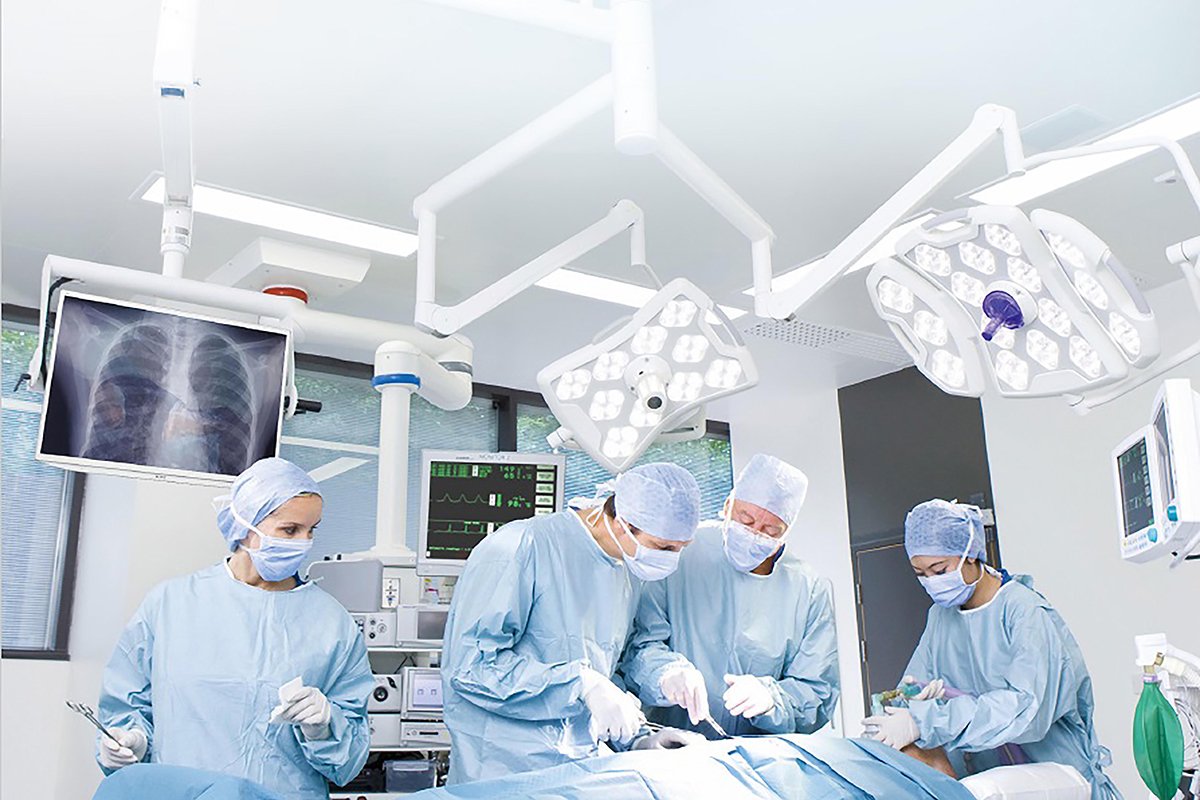 Developed in consultation with leading surgeons, NUCLeUS guides clinical staff through the planning, recording, and sharing of any type of video, still images, and other patient-related data in the operating room or Cath lab, across the campus, and beyond. Seamlessly linking devices, applications, video, and people, NUCLeUS focuses on hospital staff requirements — adding value to imaging workflows, enabling new possibilities, and supporting better-informed real-time decisions by all stakeholders.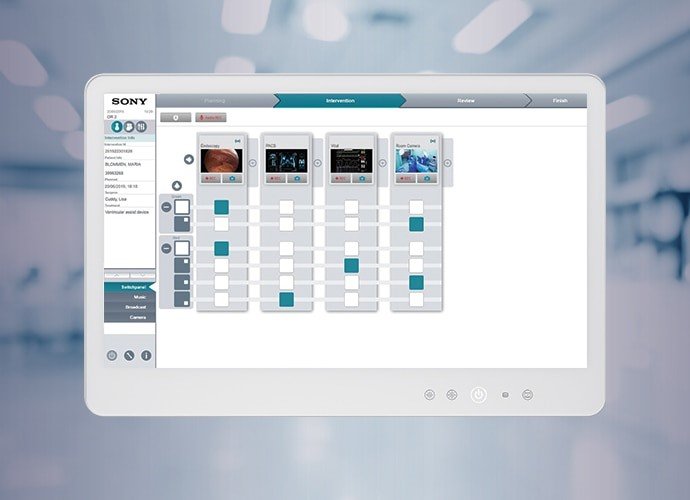 The intuitive touch-screen GUI lets clinical staff route video from any source to any destination to display on surgical monitors and large displays within the OR, or elsewhere on site. Multiple video feeds from endoscopes, surgical microscopes, C-arms, room cameras, and other sources can be recorded simultaneously on the network-based platform in any combination of formats and resolutions, regardless of whether the hospital network is based on copper or fiber IT infrastructure. Focusing on user requirements, NUCLeUS for example offers simple video-editing functions as an integrated part of the workflow, with no need for external editing software or special skills.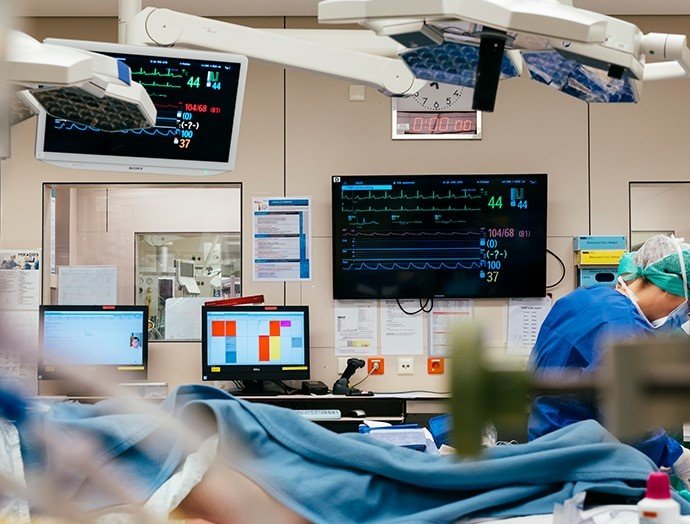 As an end-to-end IP workflow solution, NUCLeUS also lets surgeons share live video with other doctors and medical students. Captured content can be associated with other patient records and stored centrally for secure access from anywhere across the hospital-wide IP network for secondary use, e.g. conferences or educational purposes.

* 3D is available for side-by-side or top-and-bottom format in 4K/HD resolution.

Note: Image shown above represents Sony NUCLeUS™ software GUI displayed on a touch panel monitor that is manufactured by a third party. Touch panel monitor is available for purchase from Sony.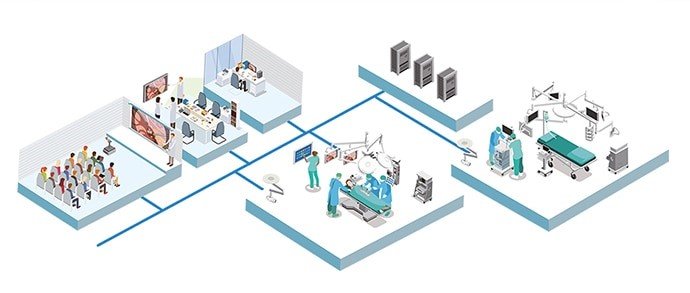 Highlight Features
Seamless, intuitive image workflow
NUCLeUS features an intuitive touch interface that simplifies imaging workflow and reduces the risk of "information overload" for busy clinical staff. Instantly route any image source to any destination, with no need to re-connect equipment. Record multiple video sources simultaneously on the network-based application, in various combination of formats and resolutions — with high quality and in real time. NUCLeUS also supports video streaming to mobile devices. Surgical staff within a Hybrid Theater or OR can view images from all modalities on their own Apple iPad device. This can enable medical staff to follow the intervention easily even when not in direct sight of the surgical displays.
User-focused video editing
NUCLeUS integrates video editing functions commonly used in clinical environments, such as trim/cut, create still images from video, and adding annotations.
Advanced image enhancement apps
A growing range of apps add powerful real-time* image processing features to assist surgeons and clinical staff. For example, rotation correction enables the surgeon to stabilize the "horizon" in an endoscopic video feed while rotating the scope.
For teaching, training, and knowledge sharing
NUCLeUS supports live video streaming, with two-way audio communication plus annotation and telestration functions — with no need to use a mobile phone for communicating with colleagues. With simple touch-panel control, it's an ideal aid for use during surgical procedures by students and consultants elsewhere on campus, or to conference delegates on campus.
Enabling smoother hospital imaging workflows
NUCLeUS communicates with the entire hospital using DICOM and HL7 standards, providing input to PACS and multimedia archives and generating a wide range of medical image information that can be combined with the Electronic Patient Record. NUCLeUS scales smoothly, integrating with Hospital Information Systems, Operating Room Planning Systems, and DICOM worklists for a seamless workflow.
Open for developers
Open APIs simplify rapid integration with modality manufacturers' operating-room controllers and other hospital systems. This also offers an attractive environment for developers to create their own modality-specific applications that can be hosted on the NUCLeUS platform.
Protecting patient privacy
Privacy Mode enables surgical staff to stop recording or broadcasting content to protect patient privacy when there is a risk that the patient can be identified. Recording and broadcasting can be quickly disabled with one button.
Scalable, vendor-neutral, and future-proof
NUCLeUS is device-, format- and resolution-agnostic, handling 4K, HD and Standard Definition video and still image sources from a wide range of modality manufacturers. Live video and audio streams are distributed in real time* over secure, standard IP connections outside the OR (via copper or fiber infrastructures) for centralized storage and easy access across the hospital network. Functionality is further increased by a growing range of NUCLeUS smart applications.
Compatible with any image source
NUCLeUS gives surgeons fingertip control over a wide range of medical image sources, including live video signals from endoscopes, ultrasound scanners, light cameras, PACS workstation UI, and many more.
Flexible display options
NUCLeUS offers a wide range of display modes and customized screen layouts, including switching to multiple monitors in full screen, picture-in-picture, or multi-split (quad view). This flexibility supports smoother workflows to suit the needs of surgeons, doctors, and medical staff through all phases of a surgical intervention, from planning to intervention to post-operative review.
Streamlined information management
NUCLeUS simplifies the management of all relevant patient data from interventions in the operating room. Multiple image sources used during surgery can be seamlessly integrated with HIS/RIS, PACS, and EMR to create a comprehensive, easily accessible patient record. For many hospitals that still print surgical images, printer integration enables the user to print recorded still images on a UP-DR80MD A4 printer directly via the NUCLeUS touch panel either during or after the intervention which enhances the documentation workflow as well.
Flexible integration, seamless upgrades, and remote support
NUCLeUS offers hospital IT departments the benefits of easy integration plus low total cost of ownership, and supports costs by supplying remote management capabilities including preventive maintenance. The system's flexible IP architecture protects hospitals' IT infrastructure investments, enabling smooth migration from HD to 4K resolution on existing cabling.
Reducing patient anxiety in the OR
Many patients are likely to feel very anxious when entering the operating room and this makes it harder for surgical teams to create a relaxed environment before surgery.

With NUCLeUS, surgical staff can use the Patient Distraction function which helps to reduce patient anxiety, allowing them to relax in the operating room. Music tracks and videos can be played to patients to create a more relaxing and comfortable atmosphere. By programming items in advance, staff can select the most suitable content for each patient. There are even five presets for both music and video — for quick and easy playback