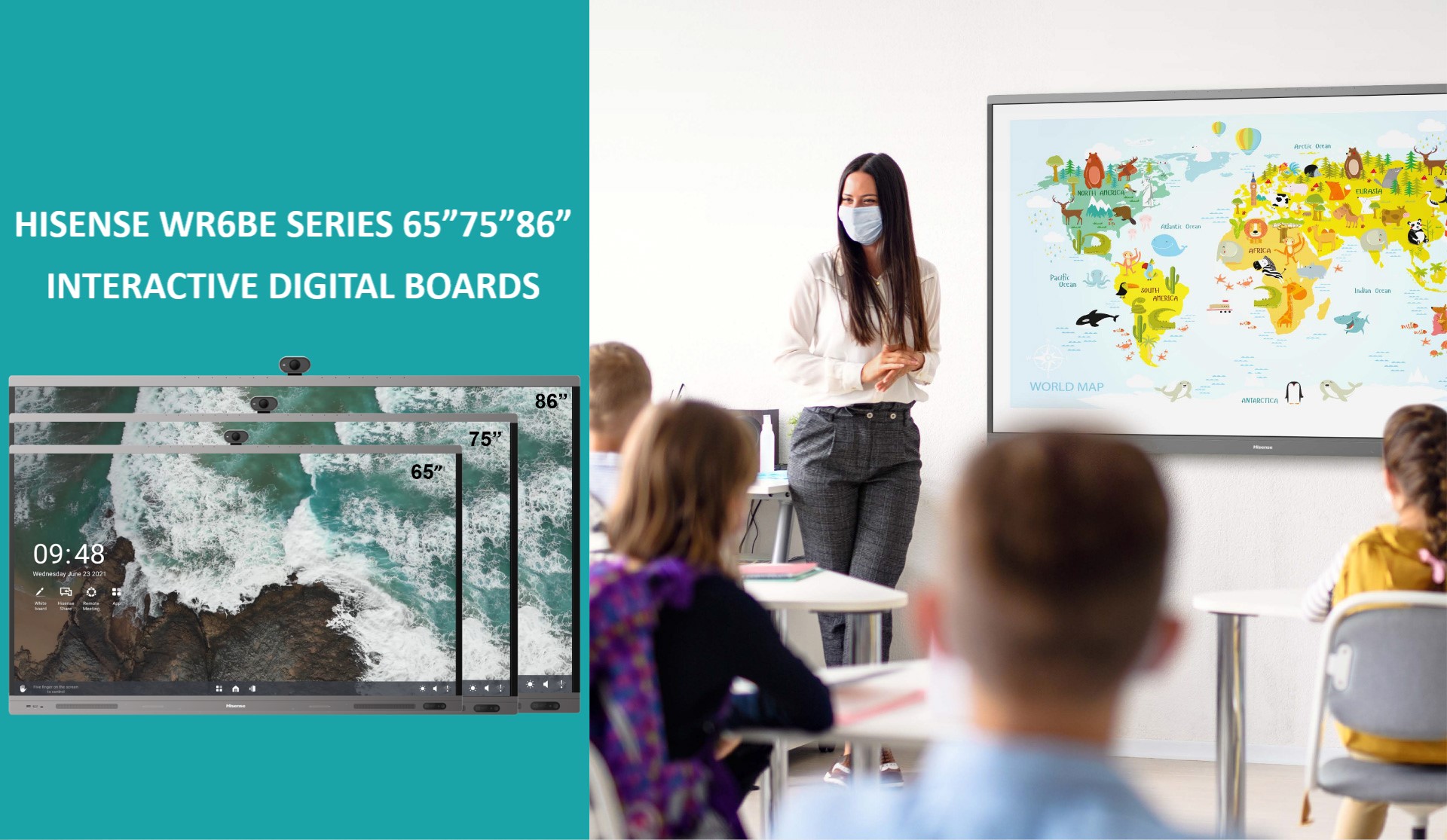 75WR6BE (Hisense Interactive Digital Board 75 Inch)
Hisense's WR6B Interactive Digital Boards 75" have been designed to organize a truly efficient conference and facilitate inspirational knowledge sharing in both business and educational environments. They are touch enabled and multiple people can use them at once to present, illustrate and share ideas and information. Creating a collaborative, communicative and interactive atmosphere that will make user-groups thrive.
Product Hilights

4K Ultra HD




The 4K Ultra HD picture quality ensures perfect colour and rich details in all possible surroundings. With a high 85% NTSC (122.9% sRGB) colour gamut and 178° wide viewing angle.

Powerful System Architecture, Smooth Processing Experience




Eight-core with dual architecture drivers, delivering unbelievable performance. 3+32GB large memory, providing unstoppable and rapid response. Powerful 8th Gen Intel Core chipset, enhancing remote control efficiently.

Drawing and content recognition


Built-in White Board app in Hisense's WR series is equipped with intelligent drawing recognition technology, which recognizes squares, circles, triangles, arrows, line segments, etc. In addition, you can draw a table on the screen and the table will adapt its size along with the touch-written content.

Open Android Platform


Built-in Android 8.0 system not only brings high smooth processing experience to users, but also supports integrators to install any Andorid-based application on our displays.

Superior Interactive Performance


It provides a more realistic sense of touch since it can recognize up to 20 simultaneous touches at once and support multiple people to write simultaneously.

Quick Response and Precise Writing


Capable of writing and erasing simultaneously without residues. The HIDB recognizes minimum up to 2mm touch points precisely and Intelligent pen edge optimization, just like the experience of writing on paper.

One Touch Transmission




Transmit between screen just by one click : sharing the Laptop screen to the HIDB just need to one key touch, without messy cables, break the cable limitation. the transmission is fast and stable.




support return transmission.




support ios/android/windows/mac.

Split Screen Collaboration Doubling Efficiency


HIDB Supports two-way mirroring and two-way touch and up to 4-way Split Screen that allows up to 4 devices to present at the same time so everyone's ideas can be shared.

Plug-in Camera & Array Microphones
A plug-in camera with an ultra wide 120° angle facilitates video conferencing. Thanks to a 4K monitoring image sensor, even people in dark light will be visible and vivid. Six array microphones make an optimal video conference experience without auditory distraction.

Inter-HIDB Wireless Transmission
Several HIDBs are connected wirelessly to display content simultaneously instead of using long-distance cables. The inter-HIDB transmission allows meeting participants to see the content clearly anywhere in the large meeting room.

Comfortable Eye Feel , Anti-Glare and Tempered Glass


HIDB filters blue light technology and eye protection mode to effectively reduce blue light, and watch it for a long time without worrying about hurting your eyes.




HIDB comes with a special screen to prevent light reflection and providing smooth touch experience with antiglare technology.




All our touch screens have toughened glass material preventing any damage to the touch panels.

Multi Share Style


Pick up your mobile phone and pack the conference content easily by E-mail or scanning a QR code. When you save your content, Our system will sort your conferences automatically, so that you can review the content in order.