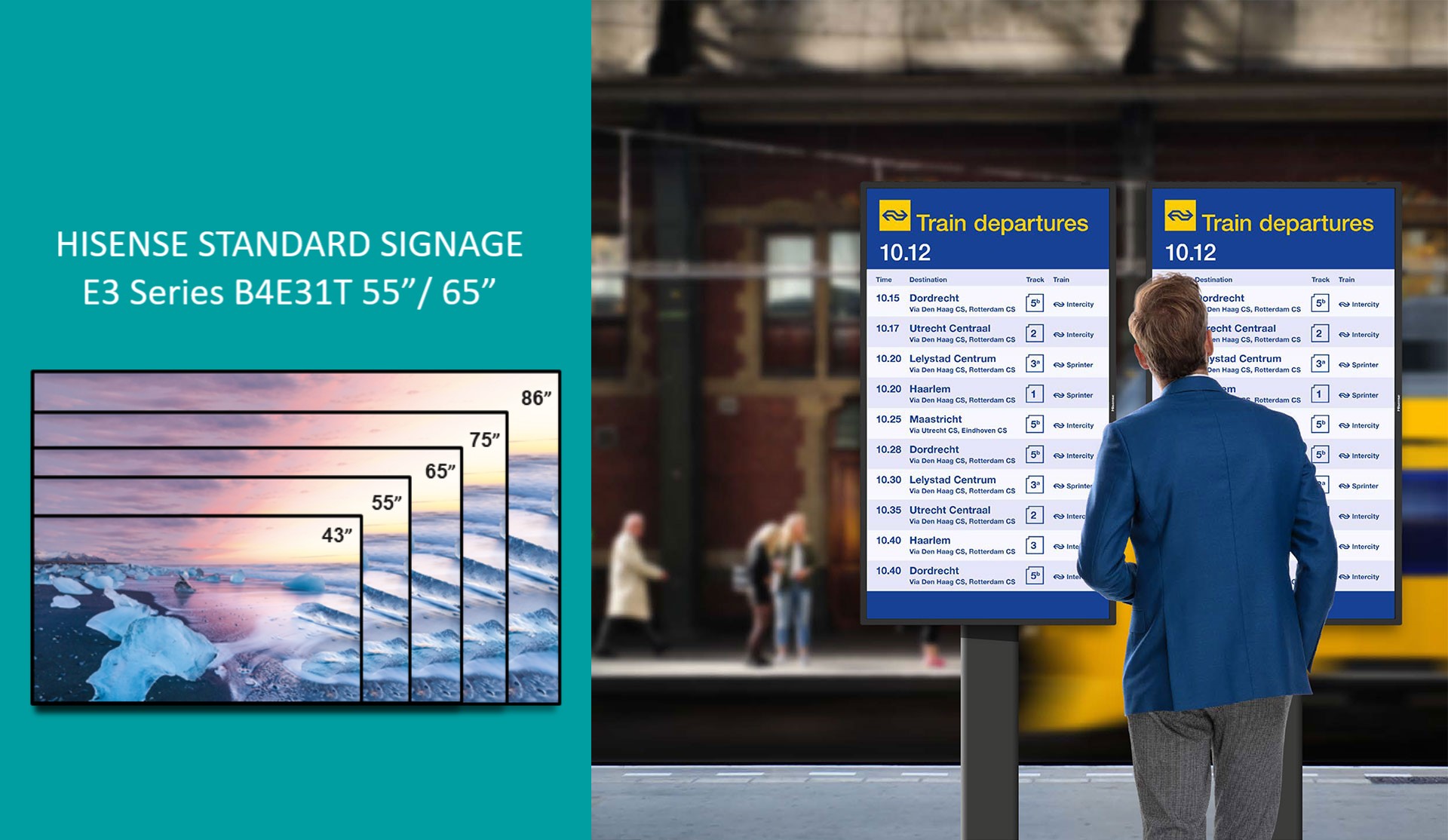 65B4E31T (Hisense Standard Digital Signage 65 Inch) 'Opening hours' operation 16/7
Hisense's B4E31T Digital Signage Displays 65" are ideal for public spaces, retail locations and business environments. They form an integrated entry-level broadcasting platform for digital content in supermarkets, restaurants, shopping malls, office buildings and public spaces such as trainstations. Their even bezel design will make the panels blend completely into their surrounding.

Product Hilights
The 4K Ultra HD
Picture quality with 500 nits maximum brightness ensures perfect colour and rich details in all possible broadcasting surroundings, ranging from shops, to restaurants and office buildings.

178° Wide viewing angle


The extra wide 178° viewing angle is a perfect fit for shoppers, employees or visitors that will view displays from diverse angles while passing by.

Built-in CMS Platform
Hisense's CMS platform allows you to edit and arrange playlists, making content management easy and user-friendly. It supports all rich media content in synchronous playback over a multitude of commercial displays. Besides this status monitoring and real-time control will allow you to quickly and centrally respond to any emergency.

Open Platform Support


Our SoC supports API (Application Programming Interface) for solution providers/integrators to develop and integrate any Andorid-based application to be installed and used on our displays.


USB Content Management


To make it easy to display any media on screen, the monitors' SoC software offers the option of a USB Auto-play feature, which can automatically show all your photos and video content.Contents can also be simply scheduled via USB, so additional server connection is not required, enabling easy content management.

High-performance System Architecture


With the internal memory which allows you to upload media into the display for instant playback, Hisense Standard Signage can save and play content without the need for a permanent external player. The internal memory also functions as a cache for online streaming.
Fail Over System
Stable broadcast is ensured with fail over functionality. When the primary source of content goes down the system will automatically switch to predetermined alternative input. All input sources (HDMI,DVI,VGA,DP) also support auto detect functionality.
Dust & Humidity Protection
The main board and power board of each Hisense BM66AE display is coated so it will effectively resist the erosion by dust and water vapour in public space conditions.

Landscape & Portrait


Both landscape and portrait orientations are possible, providing you with endless creative and functional possibilities to fulfil your commercial or informative goals.