Sony's Medical Print Media

Printed images last years longer without fading
Higher gloss, smudge-free finish
Head-matching performance provides even, continuous printing
Higher humidity, water, and heat resistance
Non-Sony Medical Print Media

Shorter lifespan
Less glossy finish than Sony's HG (High Gloss) media
Forms deposit on thermal head which affects printing density**
Causes thermal head breakdown†
** After nine rolls of non-Sony branded standard medical print media.
† After 10 rolls of non-Sony branded standard medical print media.
For high-quality prints and long archival life. If you're not using Sony brand print media for your ultrasound images, you're at risk of damaging the thermal heads on your Sony printers, delivering inferior images, and potentially voiding your warranty. Sony print media is specifically designed to work with Sony printers, so when used together you get the best of both. When you're consistently trying to obtain optimal print quality, it's tempting to focus only on your printer. But the printer is just one part of the process from image capture to image transfer. The choice of print media is equally crucial. If you want to be able to achieve a storage life of up to 30 years,* you can count on Sony print media to provide it.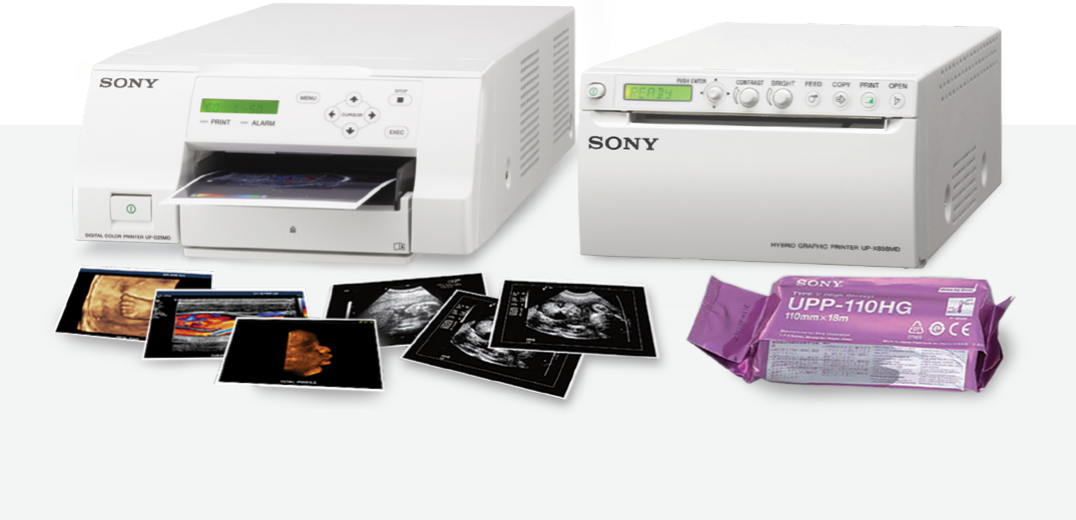 High water resistance
The high gloss layer of Sony's print media, the result of proprietary technologies, provides high water resistance and high storage stability. This layer helps prevent print smudging from fingerprints or water and increases storage stability.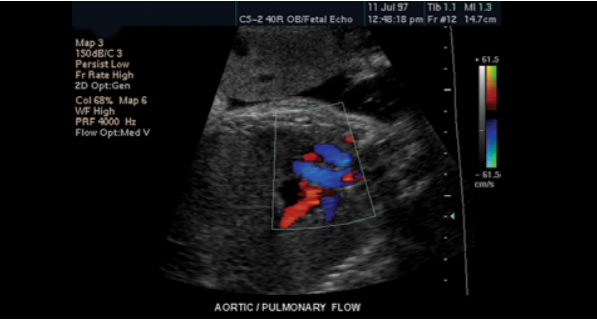 Grey-scale reproduction
Accurate grey-scale reproduction is critical to achieve the correct tonal range of the printed image. Sony simultaneously develops video printers and print media with carefully matched grey-scale characteristics that give the best possible image transfer quality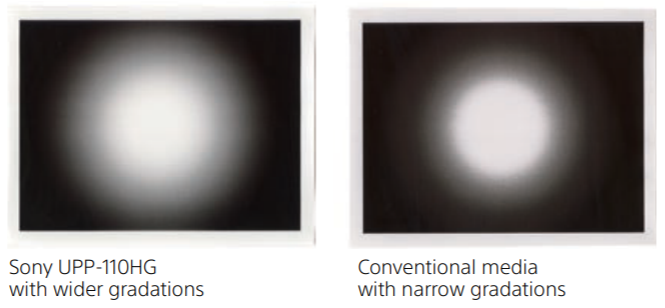 High-gloss, high-quality prints
The heavy-duty high-gloss layer also achieves virtually smudge-free high-quality printing while at the same time adds an attractive high-gloss finish to the sheet.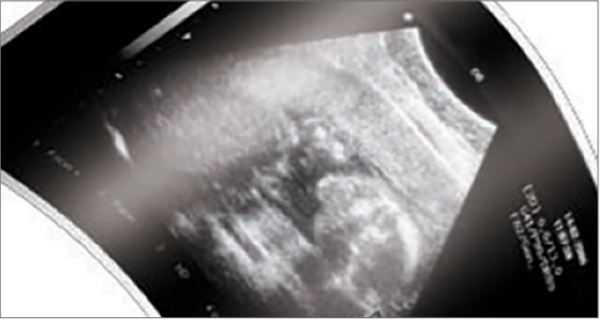 Minimal curling
Sony's media is designed for minimal curling to ensure reliable smooth throughput. Minimal curling enables you to read and file it easily.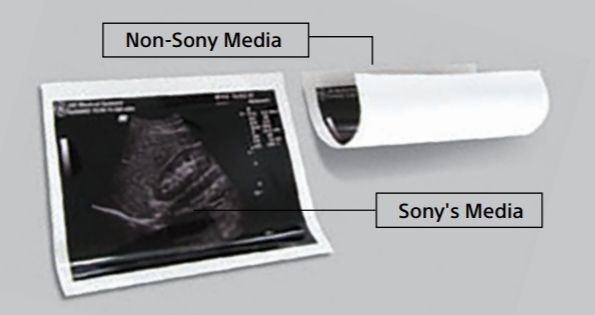 High humidity and heat resistance
High humidity can cause a significant loss of print density.** This degradation in quality is much less marked with Sony's print media, especially in highly humid conditions.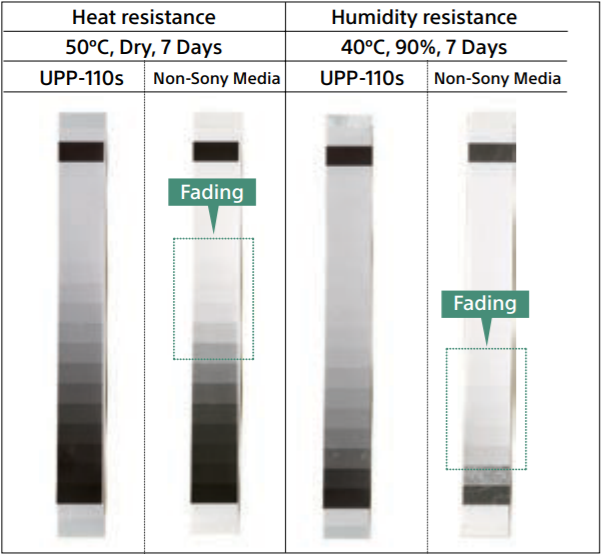 Superior print quality
Thanks to rigorous application pressure control, the thermal coat layer delivers high-quality coloring properties.
Excellent tearing properties
For the base material, the foundation of print media, Sony uses a dedicated substrate that matches the thermal specifications of Sony's printers and applies a special process to improve coating properties. This is the secret behind the excellent tearing properties of Sony's media. The specification prevents cutting in the machine direction, yet provides excellent cutting properties in the cross direction.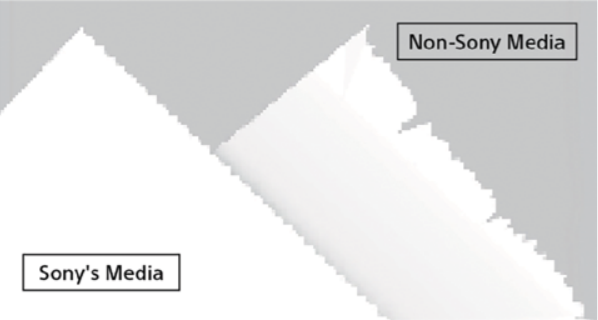 Head-matching performance
The top coat layer of Sony's print media, designed to optimally match the printer heads of Sony's printers, provides continuous printing.
Anti-electrostatic layer
Sony's print media has a built-in anti-static layer that acts against the build-up of electrostatic energy. Without this layer, electrostatic energy can accumulate and destroy vital electronic components in the printer, particularly in the thermal head.
Only Sony print media comes with the Sony manufacturers warranty and the quality control and reputation behind the Sony brand.