Accurately reproducing as much visual information as possible can lead to improved decision making during endoscopic surgery. Our 4K and HDR imaging workflows bring extra clarity and performance gains to minimal invasive surgery. Adding clarity and confidence to endoscopic imaging workflows. From image capture to display and documentation – see how Sony is transforming endoscopic imaging workflow efficiency for clinical teams.
Giving surgeons a more informative view
HDR (High Dynamic Range) reveals more detail in dark body cavities and bright areas, giving a more evenly exposed view of minimally invasive procedures. Our 32 inch LMD-X3200MD surgical monitor features advanced A.I.M.E.™ (Advanced Image Multiple Enhancer) technology, improving outline recognition and allowing clearer discrimination of subtle differences in tissue colour.

Greater resolution, from image capture to documentation
We're bringing 4K resolution to every phase of endoscopic imaging workflow. Complementing our 4K camera modules and surgical monitors, our 4K medical-grade standalone video recorder and IP networked based imaging platform enhance the quality and reliability of documentation.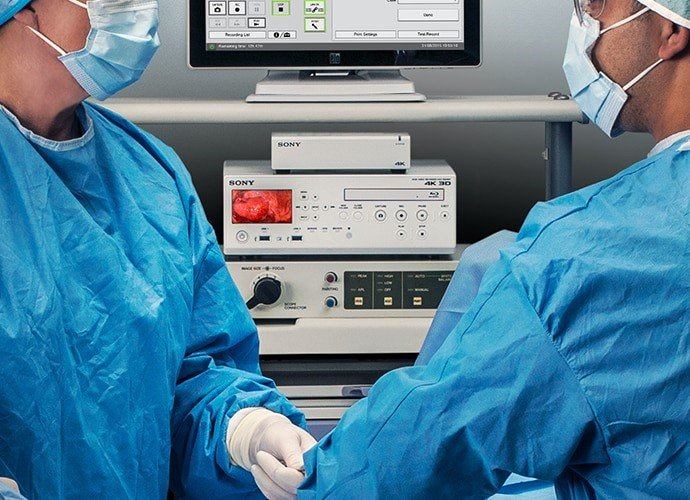 Upscale Full HD endoscopic images to 4K Ultra HD quality
Our 4K surgical monitors can upscale Full HD to 4K, letting clinical teams view video and still images with greater detail. Sony´s unique upscaling technology reduces blurring, 'jaggies' and other artefacts that are common with traditional upscaling technologies.